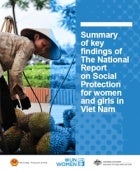 This document is a presentation of the summary of the key findings that have emerged from the study. It is being disseminated amongst key stakeholders with the prime objective of continuing to seek opinions on the subject of increasing inclusion of women and girls in the social protection system.
Appendices of the report "Resilience for All? Towards Gender-Responsive Social Protection in South-East Asia"
UN women supported the parliamentary forum on "the promotion and protection of the rights of migrant workers" held on 12 November 2012. More than 200 representatives from legislative and executive bodies of the Royal Government of Cambodia, representatives of the diplomatic communities, development partners, UN agencies, NGOs, trade unions, recruitment agencies and women migrant workers participated in the forum.