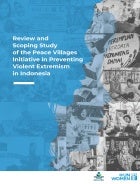 The Peace Village Initiative, implemented by the Wahid Foundation since 2017 with the support of UN Women and other donors, is an ambitious initiative that aims to address the drivers of extremism among women by mobilizing community members, especially women, to promote social cohesion across Java Island in Indonesia.
Gender equality lies at the core of human rights and is the bedrock from which sustainable development can be achieved. Women and girls represent 50 per cent of the world's population, yet are often excluded from the political arena, and shut out of decision-making that directly affects their lives. Increasing women's political participation and leadership are vital mechanisms that support women to realize their human rights. Increasing women's participation...
With a population of 13.4 million, Cambodia is one of the most populous countries in Southeast Asia, and also one of the poorest. 80 per cent of the population is rural, and an estimated one-third of Cambodians still live below the poverty line. i After decades of civil war, the country emerged from conflict in the early 1990s, and the reconstruction phase has seen some economic growth, as well as improvements in overall...