The UN Women Asia-Pacific WEPs Awards is the first regional awards initiative that recognizes companies who are taking action for gender equality in the region aligned to the Women's Empowerment Principles (WEPs), with the ultimate objective to make good practices visible and encourage more business to take action by joining the WEPs.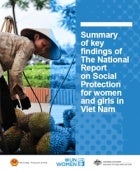 This document is a presentation of the summary of the key findings that have emerged from the study. It is being disseminated amongst key stakeholders with the prime objective of continuing to seek opinions on the subject of increasing inclusion of women and girls in the social protection system.
Appendices of the report "Resilience for All? Towards Gender-Responsive Social Protection in South-East Asia"