In 2009, UN Women (then UNIFEM) produced a Report based on a scoping mission that mapped and assessed options as well as strategic entry points for work on GRB. With various changes in key laws and policies pertinent to gender equality during the past six years, in 2015, UN Women in Viet Nam decided to revisit the 2009 Report's findings and recommendations, validate their relevance six year later and identify current opportunities to introduce GRB in Viet Nam. The 2015 Gender Responsive Budgeting in Viet Nam Report will serve as a useful tool for policy makers, researchers and other stakeholders working on gender equality, budgeting and planning.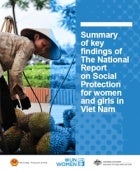 This document is a presentation of the summary of the key findings that have emerged from the study. It is being disseminated amongst key stakeholders with the prime objective of continuing to seek opinions on the subject of increasing inclusion of women and girls in the social protection system.
Appendices of the report "Resilience for All? Towards Gender-Responsive Social Protection in South-East Asia"