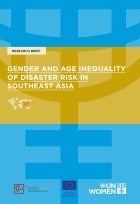 To better understand the differential conditions, risks, and impacts in disaster situations in Southeast Asia, this research on the Gender and Age Inequality of Disaster Risk in Southeast Asia was conducted in 2021, building upon methodology developed through the global study developed in this area by UN Women, UNICEF, and Practical Action. The research aimed to consolidate and analyze information on the gendered and generational nature of disaster risks in preparing for, withstanding, and recovering from disasters in the region during this last decade, and presents key findings and recommendations to advance gender-responsive DRR in the region.
The Gender Marker Toolkit, under the National Resilience Program (NRP), has been designed to strengthen and develop the gender work of the Local Government Engineering Department (LGED) which already has a Gender Equity Strategy and Action Plan and an active Gender Forum. The Toolkit aims to raise awareness, understanding, and skills in ensuring gender responsiveness throughout all project stages and for all asset types that the Bangladesh Local Government Engineering Department (LGED) works on. It also aims to strengthen LGED's influencer role with other Ministries and Departments.
Across every sphere, from health to the economy, security to social protection, the impacts of COVID-19 are exacerbated for women and girls simply by virtue of their sex. This policy brief explores how women and girls' lives are changing in the face of COVID-19, and outlines suggested priority measures to accompany both the immediate response and longer-term recovery efforts.