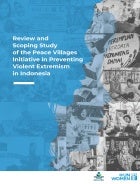 The Peace Village Initiative, implemented by the Wahid Foundation since 2017 with the support of UN Women and other donors, is an ambitious initiative that aims to address the drivers of extremism among women by mobilizing community members, especially women, to promote social cohesion across Java Island in Indonesia.
This report presents novel research findings – possibly the first such robust findings to date – on the relationship between support for misogyny, violence against women, and extremist violence in Bangladesh, Indonesia and the Philippines.
This report presents research findings on gender and violent extremism in the Philippines, Bangladesh, and Indonesia. The aim of the research is to examine women's roles in supporting, countering, and preventing violent extremism and how gender identities and relations may be used to garner support for intolerant social attitudes and groups as well as recruitment to violent extremist groups.