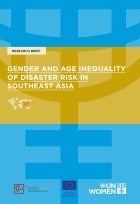 To better understand the differential conditions, risks, and impacts in disaster situations in Southeast Asia, this research on the Gender and Age Inequality of Disaster Risk in Southeast Asia was conducted in 2021, building upon methodology developed through the global study developed in this area by UN Women, UNICEF, and Practical Action. The research aimed to consolidate and analyze information on the gendered and generational nature of disaster risks in preparing for, withstanding, and recovering from disasters in the region during this last decade, and presents key findings and recommendations to advance gender-responsive DRR in the region.
The fall of Afghanistan's government to Taliban rule has further limited the ability of women and girls to exercise their rights, forcing many to flee their homes, seeking safety either elsewhere within the country or in neighbouring countries. This factsheet examines the needs, fears, and barriers encountered by Afghan women and girls who are internally displaced or who have fled abroad. It is the first in a series that will examine the changing situation in Afghanistan as additional data become available. It was produced by the United Nations Entity for Gender Equality and the Empowerment of Women (UN Women) and the Office of the United Nations High Commissioner for Refugees (UNHCR).
Inclusive Cities. Toward gender equality, youth empowerment, and non-discrimination.