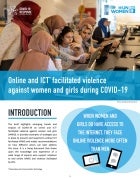 This brief highlights emerging trends and impacts of COVID-19 on violence against women and girls facilitated by information and communications technology (ICT). It provides examples of strategies and practices put in place to prevent and respond to online and ICT-facilitated violence against women and girls. It also considers the impact of the pandemic on violence against women and girls in a reality shaped by a gender digital divide.
UN Women Indonesia rolled out the project from June 2020 through May 2021. At the end of the project, 610 women benefited from the cash-based interventions, 100 women received advocacy and leadership training, and more than 100 individuals received knowledge on coordinated quality services to better support and empower women's migrant workers. In addition, 11 women's crisis centers and shelters across the country were supported to ensure that services for women's survivors of violence could continue during the pandemic.
Women and girls have been disproportionately affected by the COVID-19 pandemic's social isolation and economic fallout. They face increased violence, unpaid care work, and other inequalities and violations of their rights.