This brief provides an evidence-based analysis of recent trends in online hate speech. Focused on Bangladesh, Indonesia, the Philippines and Thailand, this brief analyses misogynistic hate speech which has occurred in the context of increasing polarization, shrinking democratic space and the ongoing gendered impacts of the COVID-19 pandemic.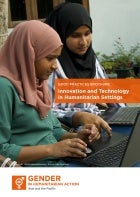 This Good Practices brochure was produced by the Asia-Pacific Gender in Humanitarian Action Working Group, co-chaired by UN Women, CARE International and the United Nations Office for the Coordination of Humanitarian Affairs (OCHA).
Among the urgent challenges to peace and security posed by the COVID-19 pandemic, cybersecurity has emerged as a new and critical area for the application of the Women, Peace and Security (WPS) agenda in Asia and the Pacific.