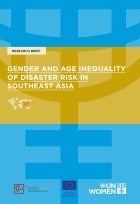 To better understand the differential conditions, risks, and impacts in disaster situations in Southeast Asia, this research on the Gender and Age Inequality of Disaster Risk in Southeast Asia was conducted in 2021, building upon methodology developed through the global study developed in this area by UN Women, UNICEF, and Practical Action. The research aimed to consolidate and analyze information on the gendered and generational nature of disaster risks in preparing for, withstanding, and recovering from disasters in the region during this last decade, and presents key findings and recommendations to advance gender-responsive DRR in the region.
Preventing gender-based violence in schools: Classroom Programme for Students in Early Secondary School (ages 11-14) Students learn best in schools that provide safety and social support. However, some young people experience violence and harassment in, around, and on the way to school. This includes gender-based violence (GBV), which can take many different forms. As a teacher, you can play an important role in preventing the expression of gender-based violence in the school setting...
Women's representation in newsrooms in many countries across the Asia and the Pacific region has been slowly but surely improving over the years. However, media in the region continue to be male-dominated, especially towards the top of organizational hierarchies, both editorial and management. Women are still more or less marginalised in the news media, in terms of the content of their jobs and in the opportunities they get to develop their skills and advance in their careers. They also tend to be sidelined in the professional unions that are supposed to represent them.