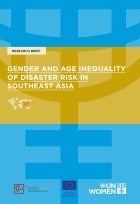 To better understand the differential conditions, risks, and impacts in disaster situations in Southeast Asia, this research on the Gender and Age Inequality of Disaster Risk in Southeast Asia was conducted in 2021, building upon methodology developed through the global study developed in this area by UN Women, UNICEF, and Practical Action. The research aimed to consolidate and analyze information on the gendered and generational nature of disaster risks in preparing for, withstanding, and recovering from disasters in the region during this last decade, and presents key findings and recommendations to advance gender-responsive DRR in the region.
'State of Gender Equality and Climate Change in Bangladesh' policy brief is based on the assessment report for Bangladesh and presents the essential findings and recommendations for policy actors to promote gender equality in climate action. It aims to strengthen country-driven processes by presenting evidence on the linkages between gender equality and climate change. It analyses the gendered impacts of climate change and the gender gaps in sectoral policies.
This brief provides an overview of the Rights of Nature, how the global movement is being translated into regional action, and its connection with indigenous knowledge and systems of living in harmony with nature.