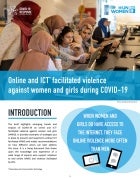 This brief highlights emerging trends and impacts of COVID-19 on violence against women and girls facilitated by information and communications technology (ICT). It provides examples of strategies and practices put in place to prevent and respond to online and ICT-facilitated violence against women and girls. It also considers the impact of the pandemic on violence against women and girls in a reality shaped by a gender digital divide.
The brief showcases the contributions of UN Women Viet Nam in supporting and working with the Government of Viet Nam, civil society, and other stakeholders to advance gender equality and the empowerment of women and girls in Viet Nam. The brief is meant to be accessible to any reader by providing an introduction to UN Women and what we do; by sharing the about impact on 4 areas of our work: Policy Advocacy, Programmes, Coordination, and Outreach.
This document will focus on examining the impact of COVID-19 on ethnic minority groups in Viet Nam, especially ethnic minority women. It will also analyze the implementation efficiency of direct cash transfer and social protection policies for ethnic minority groups from a gender equality lens. The document will propose policy recommendations towards the development and implementation of supporting policies and programmes in emergency situations to ensure gender responsiveness.