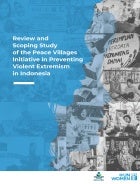 The Peace Village Initiative, implemented by the Wahid Foundation since 2017 with the support of UN Women and other donors, is an ambitious initiative that aims to address the drivers of extremism among women by mobilizing community members, especially women, to promote social cohesion across Java Island in Indonesia.
The UN Women Asia-Pacific WEPs Awards is the first regional awards initiative that recognizes companies who are taking action for gender equality in the region aligned to the Women's Empowerment Principles (WEPs), with the ultimate objective to make good practices visible and encourage more business to take action by joining the WEPs.
The Peace Village Initiative is a women-led initiative to promote peaceful and resilient communities. The idea of Peace Villages was conceived by UN Women and the Indonesian NGO Wahid Foundation, and implemented under UN Women's regional programme "Empowered Women, Peaceful Communities", funded by the government of Japan. There are now ten Peace Villages across Indonesia, and the idea continues to spread.