"Women migrant workers deserve the rights to come home safely and comfortably."
An interview with Dr. Ir. Harry Hikmat, M.Si Director-General of Social Rehabilitation of the Ministry of Social Affairs of Indonesia, and Rara Saraswati, Assistant at Rumah Perlindungon Trauma Center
Date: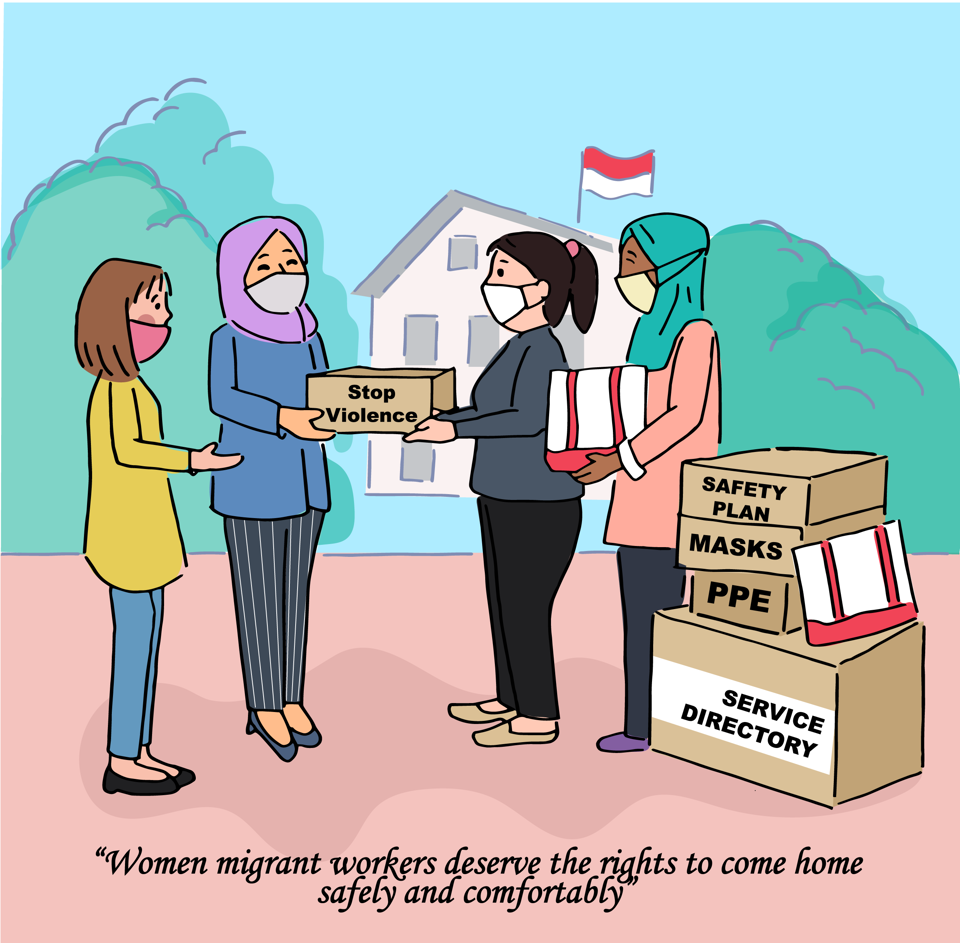 As an immediate response to the COVID-19 pandemic, the Safe and Fair Programme supported the Indonesian Ministry of Social Affairs with over 3,000 units of personal protective equipment (PPE), hygiene kits, and information materials for preventing violence against women. The kits were distributed to returning Indonesian migrant workers as part of the joint commitment to support the Government of Indonesia in its efforts towards containing COVID-19.
Dr. Ir. Harry Hikmat: Ensuring fulfillment of needs of Indonesian trafficked persons, specifically women migrant workers, is one of our mandates. During the COVID-19 pandemic, besides conducting rapid tests, we also equipped them with PPE, information on personal hygiene, social rehabilitation and information on safe and procedural migration. Women migrant workers deserve the right to come home safely and comfortably.
Rara Saraswati: This is exactly why we distributed the PPE kits to the returnee women. In the kit, there were masks and hand sanitizers for them to keep the virus away. However, PPE was not the only thing we distributed to the returnee women. We included information materials such as a safety plan for violence against women during the pandemic, a flyer on intimate partner violence and on trafficking in persons, and a list of services available for them not only in Indonesia but also in other ASEAN countries. We are hoping this will keep them safe while they are traveling home and even after they arrived home. This comes first before any other thing.
Equipping women migrant workers with knowledge can create a ripple effect on their families and friends. I saw that many women migrant workers looked excited when they received the safety plan and other information materials, and many of them told me that this was the first time they had seen these kinds of materials. They also said that they just did not consider seeking services before, and some even thought the violent situation is something they must 'carry' as part of the migration journey. I hope that, now, all the women who received the PPE kits and the information materials know how to better protect themselves and where to seek help. I also hope they will share the information with other women in their network. All women have the right to migrate safely and come back to their own country without experiencing violence.
The ILO-UN Women programme "Safe and Fair: Realizing women migrant workers' rights and opportunities in the ASEAN region", under the global EU-UN Spotlight Initiative to eliminate violence against women and girls, supports front-line service providers to ensure essential services are available for women migrant workers who are subject to violence. More: www.spotlightinitiative.org/safe-and-fair
Original article: https://asiapacific.unwomen.org/en/news-and-events/stories/2020/08/un-women-and-the-european-union-deliver-personal-protective-equipment
Interviewed by Nunik Nurjanah