The Impacts of Land Dispossession on Indigenous Women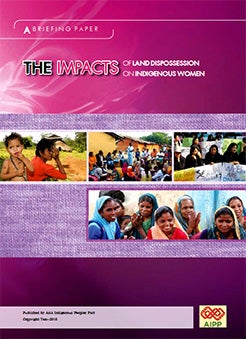 Indigenous women in Cambodia, Indonesia and India were targeted for this project because massive land alienation and land concession projects are taking place in the name of development, which are adversely affecting many indigenous communities. Among the destructive projects that are being implemented in these countries are large-scale rubber and palm oil plantations and mining. These projects have led to systematic violations against the individual and collective rights of the affected communities such as forced relocation, threats and harassments against protesting indigenous peoples and loss of livelihood among others. Indigenous women have been working alongside their communities to defend their land and livelihood from destructive projects but have not been spared as they are also subjected to harassments, rape and sexual abuse.
There are opportunities in the said countries though for the protection and promotion of the rights of indigenous peoples in general and indigenous women in particular. Through the project activities, capacity of indigenous women in the project areas has been enhanced. They have gained knowledge and skills, and confidence to document the situation of indigenous women to assert their rights. Moreover being in collaboration with the UN Women has opened up space for indigenous women to engage with the governments, intergovernmental bodies and processes, and other actors for the promotion and protection of their individual and collective rights.
View online/download
Bibliographic information