Inclusive consultations are essential for effective governance of customary land in Solomon Islands
Date:
[Press release]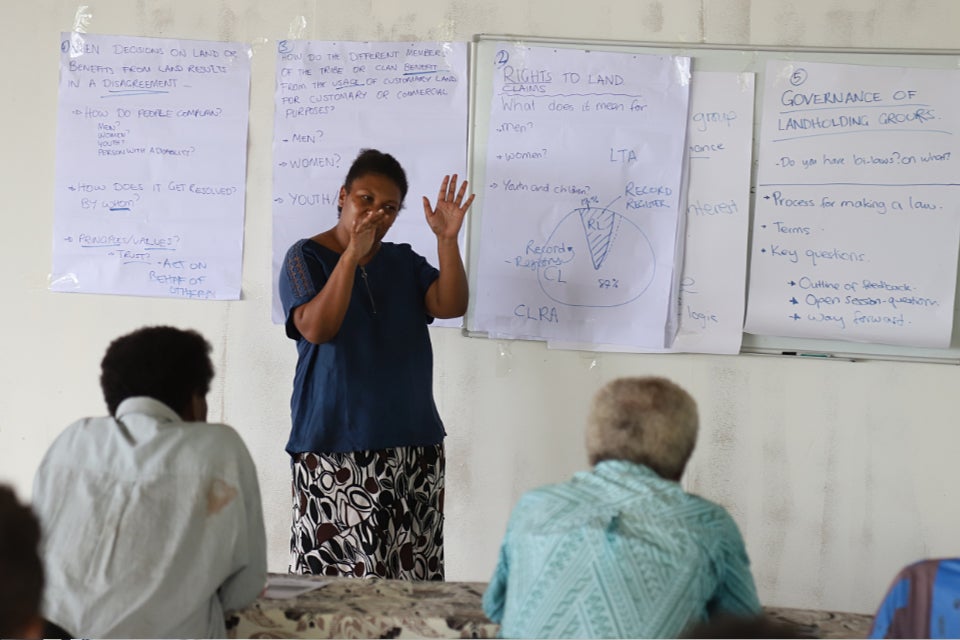 Solomon Islands, February 2021 – More than 100 landholding groups' representatives including 60 women leaders from three provinces – Guadalcanal, Malaita and Western Provinces will participate in a series of consultation and awareness programs to learn how to make customary land available and accessible for the future development of Solomon Islands. 
Since February 8, the customary landholding groups from Sahalu ward in Guadalcanal, Parara in Western Province and East Are'are in Malaita Province have had an opportunity to learn more about implications of the bylaws on customary landholding groups administration and governance after the customary land recording process, which is currently ongoing, is completed. Furthermore, the Ministry will use this consultation to collect views of the landholding groups on the proposed bylaws.
In the Solomon Islands, as well as throughout the Pacific, the land is a fundamental part of traditional culture. Customary land is acknowledged and protected in most provinces' state policies and laws. Yet, women's direct access to land through purchase or inheritance is often limited. Since women are often the main providers for households, through farming and cultivating food, there are usually customary provisions for indirect access to land in terms of land-use rights acquired through kinship relationships and their status as wives, mothers, sisters, or daughters.
"Inclusion is the embodiment of the Ministry of Lands, Housing and Survey way of life. Integration and inclusion policies at both provincial and national levels are vital for provinces, communities and tribes, and contribute to resilient communities and sustainable development," said Mary Tegavota, National Recorder, Ministry of Land, Housing and Survey.
"Everyone wants to make their voices counted, to make the Customary Land Records Act more inclusive. Consultations programs like this serve as a platform where everyone is equal, all voices are heard and taken into account," one of the participants stated.
By the end of the consultation and awareness program, it is expected that the customary landholding men and women's representatives would understand the proposed customary landholding group bylaws, and the feedback on the bylaws will also be used for the policy paper's development.
With the 2030 Agenda as a guiding thread, UNDP and UN Women work to advance people's civic and political life, economic empowerment, and role as peace- and resilience-builders.
The consultation and awareness program which will last till the end of February, 2021 is being conducted with the support of the Ministry of Lands, Housing and Survey by the Inclusive Governance of Natural Resources (IGNR) Project implemented by UNDP Solomon Islands and UN Women with the financial support of the United Nations Peacebuilding Fund.
Contact information:
Anastasiia Tiurmenko
Communications Specialist – Inclusive Governance of Natural Resources Project
UNDP Solomon Islands


T

el: +677 74 72129 | 

Email:  [ Click to reveal ]